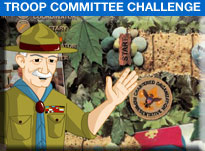 Troop Committee Challenge
Troop Committee Challenge is a course required by Committee Chairmen and Committee Members of Boy Scout troops to earn their "Trained" status. This fun and interactive training serves as a vital tool for new troop committee members as well as for veterans. The mission of the Troop Committee Challenge training is to help each troop committee work as a team to improve the Scouting experience for adult and youth members. It helps build the commitment of individual members as well as cultivates a better troop committee team. This online course focuses on the core beliefs, aims, and methods of Scouting. Specifically, it helps each committee member learn and identify his or her role and responsibilities in support of the adult leaders in the unit to provide a quality troop experience for the Scouts.
Troop Committee Challenge should be taken after Youth Protection Training, This is Scouting, and Position Specific Training.
If the module is taken online and your MyScouting account is connected to your BSA membership record, completion is noted automatically in the BSA training records database. Estimated time to complete: 45 minutes.